Photovoltaic or Solar Power Generation Solutions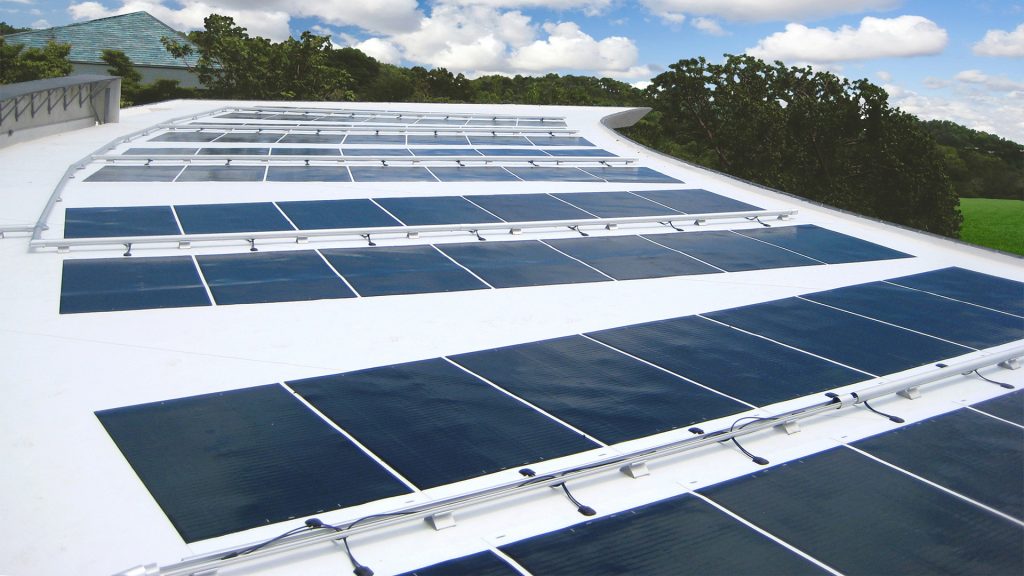 Overview of Solar Panels
MRC Energy's extensive range of power generating Solar Solutions are designed to meet your project specific solar needs and requirements.
Solar panels are the collection of solar or photovoltaic cells which, convert solar energy i.e. sunlight into electrical energy or electricity. The process of extraction of electricity directly from sunlight is known as photovoltaic process. A photovoltaic cell or a self-generating barrier layer cell is also a PV detector which transforms radiant flux straight into electrical current.
Some of the deciding factors regarding the type and size of solar or photovoltaic solutions are as follows:-
Project or building location
Building orientation
Weight of the solar system
Structural considerations of download load and more importantly wind uplift
Type of roof or wall that has been specified or installed
Overhanging shadows from adjacent buildings or trees etc
The MRC Grid Tied solar system is designed to generate electricity during the day. This system requires a connection from the main electricity grid to operate. The system is designed so that electricity is used first from the solar system, and only from the grid when the demand exceeds the solar capacity. The savings from your solar system is directly related to your capital investment and size of Grid Tied solar system installed.  Systems can be designed to accommodate both single phase and three phase installations. Battery back can be added to a grid tied system.
In order for you to benefit from your MRC Grid Tied solar installation we will do an audit on your property. This audit will look at ways of making your property more energy efficient to reap the maximum benefit of a MRC Grid Tied solar system. Due to the varying solar conditions in different areas of the country, MRC Solar solutions do a design based on the Kilo Watt Peak basis and orientation of your property to ensure maximum efficiency of your Grid Tied solar system.
It is possible to generate surplus electricity from your Grid Tied Solar System, and feed back into the grid. Please contact us to see if your area has a feed in tariff structure.
Off Grid backup Solar System
We are able to design an off grid solar system, with battery backup. Your MRC off grid solar system will harness the full benefit of solar, without having to rely on supply from the grid. Critical for this application is a full energy audit of your property. This will allow us to design and install an efficient MRC off grid solar system, with backup based on the 1 kilowatt peak method. The size of the solar system depends on many factors, including area of the country, and orientation of the property.
The size of the system, and number of batteries will also depend on your load profile and maximum demand. The key to a successful off grid system, is one where peak demand is carefully managed to allow for a smooth load profile.
Critical with an off Grid solar system is the management of the your battery backup. The type of battery used with an off grid solar system needs to be carefully considered, to ensure uninterrupted solar benefits. The number of charging cycles, and depth of discharge determines the type and amount of batteries required.
As part of the off grid backup solar back up system, we will advise whether a backup generator needs to be installed, as it may be required to charge the battery bank when inclement weather last for days.